HP has numerous divisions, each with its own customer care division. HP support provides technical help for various devices ranging from laptops, scanners, desktops, and printers to monitors. With top-class experts, you will get the best technical help possible for your printer, laptop, desktop, etc. You can have your printer set up, your laptop or pc tune-up, and your hardware repaired with the help of the HP team.
In this post, we will explain how you can contact the HP support team for your issues. We'll explain how to contact HP on call, live chat, or through their social media pages.
How to Get in touch With HP Support on Call
In case you want to contact HP support, you can do this easily by calling on their toll-free number 1 800-474-6836 or 1 800-HP-INVENT. After calling on hp support number, on the first prompt, select "it is something else" after the "home" option. You'll be connected to a hp support live representative in 5-10 minutes. You can also chat with the HP support team by visiting their official website.
You can avail of support services for HP devices like HP printers, laptops, desktops, monitors, and more. There are different numbers available for different devices, which are mentioned below.
| | |
| --- | --- |
| Business printer, desktop, and notebook | 800-334-5144 |
| For server and networking | 844-806-3425 |
| HP connected, instant ink | 855-785-2777 |
HP Sales Support
You can also contact the hp sales support team. You can get in touch with the hp support team to get help with sales-related issues or to get product suggestions from them. The sales support team is available 7 days a week except.
| | |
| --- | --- |
| Hp parts replacement | 800-227-8164 |
| Latex and Scitex printers | 877-303-1887 |
| Design jet printers | 888-772-9897 |
| For Large enterprises | 877-686-9637 |
| Education and public sectors | 800-727-2472 |
| Small and medium business | 866-625-0242 |
| Office and Home Products (consumers) | 888-999-4747 |
Support for Non-Sales Inquiries
If you don't have a sale or support-related query but still want to contact hp, don't worry; you can do it. You can contact the HP non-sale support department for any other queries.
| | |
| --- | --- |
| Office/home | 800-407-4005 |
| For small/medium business | 866-625-0242 |
| Public sector and government | 800-727-2472 |
| Questions for hp products and service | 800-752-0900 |
| Password and web store errors | 800-607-3567 |
| Registration Inquiry | 800-407-6210 |
| HP finance service | 888-277-5942 |
HP Support for People with Disabilities
Hp also provides support services for people with disability. Customers who use TRS/VRS/WebCapTel and need technical help or accessibility problems can call (877) 656-7058, Monday through Friday, 6 a.m. to 9 p.m.
On the other hand, customers with disabilities or age-related impairments having questions about HP products' accessibility can call (888) 259-5707 from 6 a.m. to 9 p.m., Monday through Friday. You can contact the Communication Assistant Team, a specialized customer care team that supports accessibility requirements, by calling the number provided above.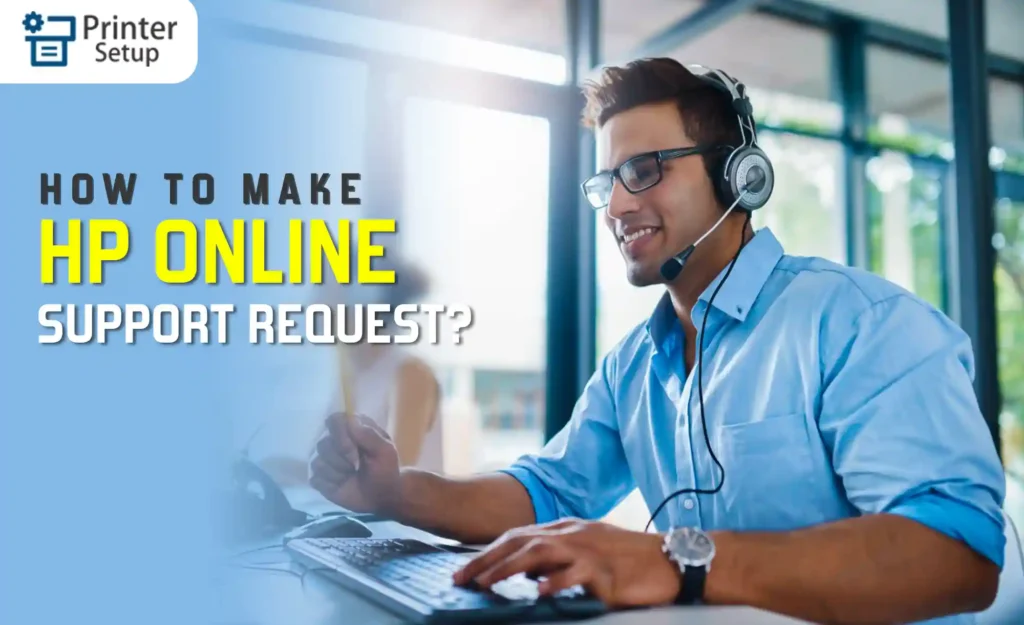 How to Make HP Online Support Request?
Before calling on the hp support team, you can also generate an online request/ticket for your issues. To generate a ticket, you have to visit the hp website and follow the steps below.
Step 1:- Visit HP

Official Website

Step 2:- Select your repair – 1. PC repair, 2. Printer repair.

Step 3:- Download and Install the scanning program.

Step 4:- Start the scan; if your pc or device needs a repair, then you'll get an error code on your screen.

Step 5:- Visit – https://support.hp.com/us-en/help/repair

Step 6:- And enter the code you received, product number, and location.

Step 7:- Now start your repair.
For the purpose of directing you to the appropriate department for customer assistance, HP's website requires sign-in or, a least, the name and model number of your product. Moreover, you will have to keep related documents on hand before calling HP customer care.
How to Chat with HP Support?
Another way to get in touch with the HP support is through chat mode. However, the chat facility is only available for logged-in users. You can chat with the HP team about your devices like- printers, desktops, laptops, etc. Here is the step-by-step guide to chatting with the HP team.
Firstly visit https://www.hp.com/us-en/contact-hp/contact.html

Now click on the go button below contact support.

Login with your account information.

Now you'll get the option to chat with the hp support team.
How Can I Get in Touch With HP Via Social Media?
You can also contact the HP team on social media. HP team is available on social media sites like – Facebook, Twitter, Instagram, etc. You can always ping them for any help you need with HP devices. Here are the links for contacting the HP team on social media.
You can also contact HP support via email. The email address for the HP support department is [email protected]. You can request various support services via their email support team.
How do I contact HP support for Printer Issues?
If your printer is not working, then you contact the experts at hp support for help. You can avail of services like printer setup, online troubleshooting, and get remote support for your hp printer. To contact the hp printer support team, you can call on their toll-free number – 800-474-6836 for help. However, you can also contact them by following the steps below.
Visit – https://support.hp.com/us-en/printer

Now from here, you can contact hp support for printer setup, instant ink support, and hp printer support.

You can enter the product serial number and avail of services accordingly.
Frequently Asked Questions
Is the hp support team available 24/7?
Yes, the hp support team is available 24/7, except at Christmas, new year, and Thanksgiving. You can contact the hp team for help around the clock.
How do I contact HP customer support?
HP Support: To find drivers, troubleshooting, diagnostic tools, and more, head over to www.support.hp.com/, then create your case online at www.hp.com/contacthp before calling 800-474-6836 for faster assistance. For tips, tricks, and community support, You can visit www.hpsupportforum.com for tricks, tips, and support from the community.
Does HP have live chat support?
Yes, HP has a live chat support facility on their website. You can visit https://www.hp.com/us-en/contact-hp/contact.html. Choose the support option and log in to your account. After that you will be able to chat with the HP support team.
Why do Customers Call HP Support?
For a variety of reasons, customers contact HP customer service, including
Seeking product information and making purchases.

Asking for technical assistance.

Modifying or cancelling orders.

Requesting order status.

Seeking servicing under an active warranty.